Ovenstove
$472.49 $629.99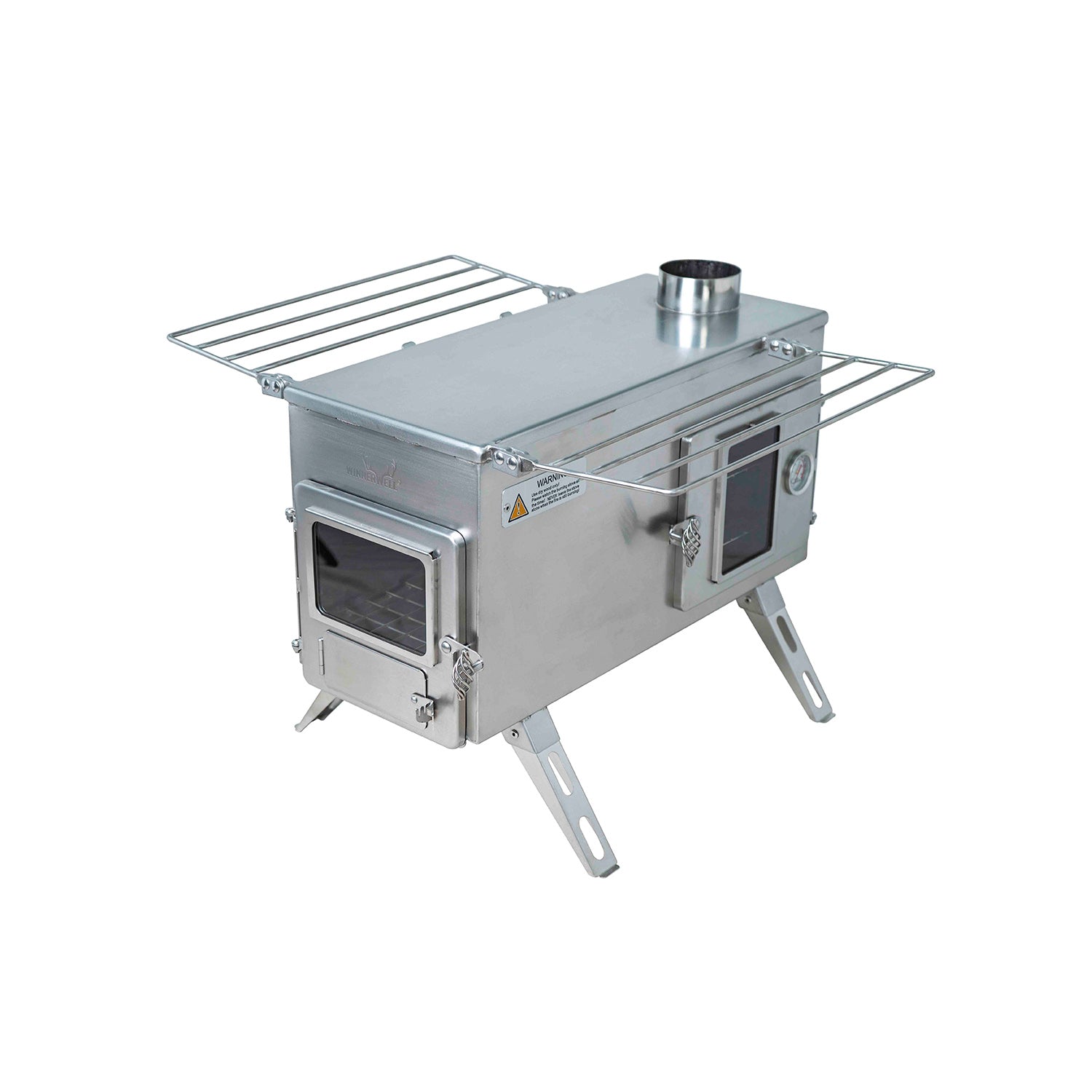 Built in the style of the popular Nomad Stove series, the Winnerwell Ovenstove features a separate integrated oven chamber with an independent door for camp baking and cooking.

Made with durable and highly corrosion resistant 304 stainless steel, the oven design absorbs heat from all 4 sides of the stove allowing you to achieve even and consistent baking temperatures. The oven window and integrated thermometer let you keep an eye on your grub, and 2 included baking racks maximize the cooking space.

Compatible with Large size and 3.5" Winnerwell Stove Accessories, as well as Nomad Series leg extension kits.
Features/Specs

Precision-crafted in 304 Stainless Steel that is highly resistant to rust and corrosion (1/8" thickcooktop material, 1/16" thick body material)
Includes 1 stove body, 1 airflow controller pipe, 6 sections of straight chimney pipe (3.5"diameter, 16.9" length), 1 spark arrestor, and 1 ash scraper, 1 stove grate, and 2 oven racks
Weight: 43.1 pounds
Stove Body Dimensions: 22.8"(L) x 9.8"(W) x 11.8"(H)
Oven Dimensions: 9.1"(W) x 7.1"(H) x 7.5"(D)
Assemble Dimensions: 24.4" (L) x 25.6"(W) x 100" (H) | (100" indicates total height from the ground to the spark arrestor)
Fuel Type: dry, seasoned wood only (not intended for coal burning)
Door features an air-control damper and a glass window for fire management and ambiance Independent oven door with window and integrated thermometer
Level side shelves lend cooking versatility and double as a carry handle
Highly portable- spring-loaded legs and shelves fold flat to the stove body
Wide 4-leg design helps keep the stove stable on uneven surfaces
Compatible with Large Size and 3.5" Winnerwell Stove Accessories
Certifications: N/A (This is a recreational wood burning stove not intended for residential use)

Materials: Made entirely from 304 stainless steel, using 1/8" thick material for the cooktop and 1/16" thick material for the body, Winnerwell stoves are unique in the world of portable wood burning stoves. Good quality stainless steel lends several distinct advantages: It does not rust or corrode—a huge advantage in harsh outdoor environments; It can functionally withstand higher temperatures than mild steel, allowing thinner material to be used on the stove body which significantly reduces weight, ultimately making the stove more portable; And lastly, after the first burn, the stainless steel starts to take on a very nice patina color.
Operating Tips: Efficient and proper use of a wood stove requires some patience and practice. When starting your fire, it's important to quickly establish a hot bed of coals to initiate a strong draw of air through the stove and up the flue. Use a generous amount of small tinder when starting a fire in the stove, slowly adding larger pieces of wood. Always open the door slowly to prevent smoke spillage into your tent or shelter. Never start a fire using flammable accelerates such lighter fluid. We strongly recommend operating your stove outside for the first several burns to practice your fire starting technique and optimizing burn temperature and rate using the airflow controls. It's important that your stove burns hot enough to efficiently combust the fuel- when the stove is burning efficiently, little to no visible smoke should be exiting the chimney pipe. If the chimney is belching thick visible smoke, this is an indication the stove is not burning efficiently. Also avoid overloading the stove with fuel as this can create excessive heat which can warp or damage the stove.
 
Accessory Recommendations: For added cooking utility, we recommend the Large Water Tank and the Nomad Leg Extension kits. The water tank is excellent for melting snow and ice for drinking water, and when the stove is burning efficiently the tank will boil water in minutes thanks to its location at the back of the cooktop and the base of the flue pipe where heat is concentrated.

Installation Recommendations: Always maintain adequate clearances when using a wood stove in a tent or shelter. We recommend at least 18-inches between the stove and any combustible material. When using a non-combustible heat shield or fireproof hearth, clearances can be reduced by half. We strongly recommend the use of a Double Wall Pipe Section and a Flashing Kit where the flue exits the tent or shelter. Always ensure the flue exits through a fireproof stove jack and the combustible materials are kept clear of the stove or flue. Whenever possible, secure the legs of the stove using tent stakes, bolts, or other adequate anchors to prevent the stove from tipping over. This is especially critical in shelters prone to movement like a trailer or boat.

Warnings & Considerations: Never leave a wood stove burning unattended. The surface of Winnerwell Wood Stoves become extremely hot during use, always wear leather gloves and exercise caution when operating the wood stove. Careful supervision of children and pets is mandatory when operating the wood stove to prevent harm or injury. When children or pets are present, we strongly recommend the use of fence panels or a stove guard to prevent unintentional contact with the stove. Only burn clean, dry, seasoned firewood in Winnerwell Wood Stoves. Burning green wood can result in carbon monoxide which is hazardous to health as well as increase the build up of creosote in the flue pipe which can create the risk of chimney fire. Clean the flue regularly (approx. every 20 hours of burn time) to avoid excessive creosote build up which can inhibit airflow and create the risk of chimney fire. We recommend a Winnerwell Pipe Brush for cleaning the flue. User assumes responsibility for the safe use of this wood stove.